Union Station Kansas City is a historical landmark and civic asset renovated and reopened to the public in 1999.
It features a science center, world-class touring exhibitions, an extreme screen theatre, planetarium, live theatre, shops, and restaurants.
Union Station is a 501(c)3 non-profit organization that receives no public funding. General admission and theatre ticketing, grants, private donations, commercial space leases, and event rentals funds the Station's operating costs.
For 100+ years, this landmark has served as the choice destination for our growing community and region. Today, it serves as the place where Kansas City connects, creates, discovers, and celebrates. We offer fun and unique attractions, world-class touring exhibitions, educational programs, team-building activities, and private group buyouts.
The Highlights
Private lunchroom available for reservation
Easy bus drop-off & pick up, plus free bus parking!
NEW attractions and exhibits in addition to traditional favorites
Easily customizable visits, tailored specifically to your group
Gorgeous, historical architecture and scenery at each turn
Scavenger hunts throughout Science City and Union Station
Booking Your Group Visit
Looking to book a group visit to our award-winning Science City, the Arvin Gottlieb Planetarium, our Touring Exhibition, or just a magical tour of the historic building? Connect with us at [email protected]
Unsure What To Do?
If you're interested in booking a group visit, but aren't quite sure what to do, use our Group Planning Tool! A group sales representative will contact you with some options based on what you're looking for.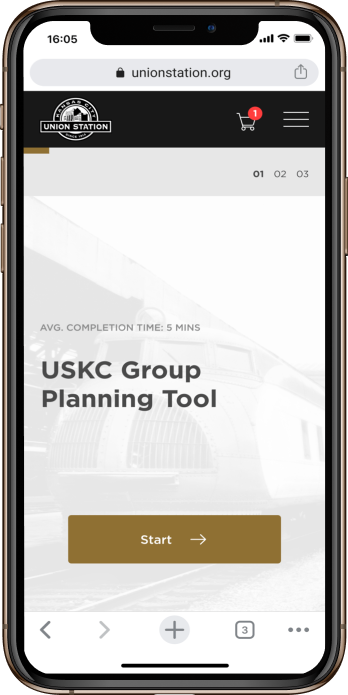 Group Leaders
Subscribe to The Next Stop to get the most up-to-date, inside information about what's going on for groups at Union Station. The Next Stop is a monthly email service that will provide members access to updates on group sales news, special offers, upcoming events and much more! After you've registered, an email confirmation will be sent to the email address on file.
Educators
Subscribe to the Union Station Kansas City Educator Program to stay up-to-date with all things Union Station! This program is free and available to all licensed educators, educators in training, early childhood educators, and home school educators in Missouri and Kansas.